Accounting Competition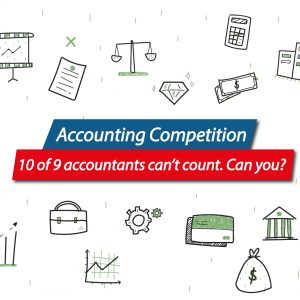 *An Accounting Competition for Stamford Bachelor's Degree Students*
10 of 9 accountants can't count. Can you? 😀
Do you know how to record accounting transactions?
Do you know how Financial Statements look like?
Do you want to learn basics of an online accounting software?
Do you want to win some cool prizes?

If you answer YES and wish to participate in the competition, please send me an email with a list of team members at anna.semmerling@stamford.edu
The competition is open to all Stamford students. The group should not exceed three members.
The objective of the competition is to encourage students to use their knowledge of accounting in practice.
The deadline for registration is Thursday, September 12th in week 9.
Register to join the competition