The first Management Conference in 2019 was held successfully
Stamford International University, Thailand
The first Management Conference in 2019 was held successfully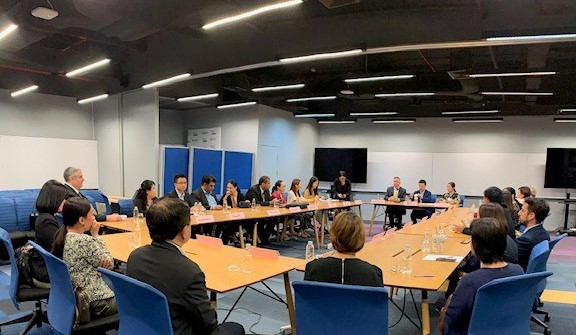 On 11th June, 17.00 hours Bangkok time, the first Management Team Conference in 2019 of Stamford International University Thailand was held at Stamford's Asoke Learning Center. Mr. Li Guangyu, member of China's National People's Congress, Chairman of China Yuhua Education Corporation, Chairman of Stamford International University; Ms. Li Hua, member of the 17th National Congress of the Communist Youth League, CEO of China Yuhua Education Corporation, CEO of Stamford International University; Dr. Andrew Scown, President of Stamford International University Thailand; Mr Pierre Bourgoin, Assistant President of the Hua Hin Campus of Stamford International University, and senior management from various departments of the three campuses attended the meeting which was hosted by President Andrew Scown.
At the meeting, Chairman Li delivered a keynote speech. He first thanked everyone who has contributed to the development of the school since the establishment of Stamford International University in Thailand. "Whether it is the President, Lecturers, or Staff, whether they are still working at Stamford or not, we are equally grateful to them. Without their hard work over the past years, Stamford would never be the best international university in Asia." His sincere words earned strong applause from all the management team who attended the Conference.
Chairman Li said that the biggest core of Stamford International University in Thailand is its international management team and the international lecturers – the backbone of the university. It is because of them that Stamford International University has made the miracle of becoming the top one international university in Asia. Without them, the soul and spirit of Stamford will be lost. In the future, we shall continue to build strengths – enhancing our internationalization, form a stronger international management team, increase the proportion of international faculty and continue to make it stronger.
Chairman Li further emphasized the importance of student admissions, student services, and student management all working together to support the goals of the University. At the same time, he talked about Yuhua's differences from other investors. For Yuhua, education is a career. Yuhua has devoted love and affection for our affiliated schools. We have full confidence to operate Stamford International University in Thailand because we are not only willing to invest but also we can and will continue to invest. We not only have the assertiveness and patience but more importantly, we regard Stamford International University as our own child. We have put our love and every effort to help the school to grow alongside with Yuhua!
President Andrew Scown in responding to Chairman's Li's speech thanked the Chairman for his inspiring thoughts and words which help us all see a stronger and brighter future for Stamford International University in Thailand. Dr. Scown emphasized that under the guidance of the Chairman, with the experience and guidance of the YuHua Group, along with the joint efforts of all our Stamford colleagues, collectively we are all striving for and will achieve greater and sustained development. The new academic year commences in July 2019, making it a new beginning for us. The University's renewed Strategic Plan – Designing Futures: Transforming Lives – recently approved by the Stamford International University Council will be guiding us in the future. We must focus on employee development, student-centred pedagogy, and internationalization all within our rich heritage and culture of Thailand. All departments shall learn and benefit from the spirit of the conference and be guided by the inspirational words of Chairman Li. Under the strong leadership of our Board of Directors, everyone shall unite and work together to fully implement our Strategic Plan to build Stamford International University to be a better place where we can cultivate more great talents for the world!
escort izmir