"LILUNA" Another Success Story of Stamford MBA Student
Congratulations to "LILUNA" and Our MBA Student!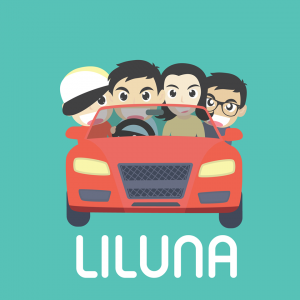 In August 2018, Verawan Phatrathamrongchai (also known as Arm), a Stamford MBA student, COO of "LILUNA", won the 1st Runner Up Prize of SEEDSTARS BANGKOK 2018, the World's Biggest Startup Competition in Emerging Markets. She got investment funding for her project "LILUNA" and a ticket to the GLOBAL SUMMIT 2018 in Switzerland.
Verawan said her team would not stop here. "LILUNA" will soon be developed as "LIFE SHARING". Let's get to know more about "LILUNA" and learn from this success story.
WHAT IS LILUNA?
LILUNA is Thailand's fastest growing Car Pool application, featured in The Bangkok Post, BrandAge, Forbes Thailand, The Univorn TV series, and many more mass media.
The value proposition is totally different from Grab or Taxi services where drivers go anywhere as per the passengers' requests. LILUNA highly focuses on the ride sharing or car pool for anyone who go the same way, then they can go together! It aims to build the community in the society for engaged the relationship of people in the same country much more and also save the transportation costs, save the times, and save the world in reducing the high level of air pollution.
LILUNA can earn 25K USD from the angel investment in very first 2 months of the implementation, and also can reach over 75K USD revenues from its  potential real estate clients as LPN development and SENA development in the first year. Further, it is able to reach out over 120,000 downloads with 5,000 drivers in only 16 months.
WHO IS THE TARGET?
1) B2B (Inner-city) : LILUNA targets to reach over 10 corporates and 10 events in the end of 2019 for earning over 6 MB. Because they cannot point every single people in the city, so they reach into the corporate sectors such University, Office Building, Condo, and Home Village as much as the concerts and running marathon events. Then, they can bring their huge volumes users to our application as win-win benefits because they will be benefit their clients as the privilege and also can know daily routes of their clients.
2) B2C (Inter-city) : LILUNA still keeps B2C model because currently it has been found that main users and drivers usually create, find, and match between them in the intercity such BKK-Hua Hin, BKK-Rayong, Rayong-Korat, and so much more routes.
And the rest are college students, working people, and anyone who have to drive their own cars or take any public transportation daily. Especially, they highly focus on B2B such the corporate sectors which have many employees working in the same building or many tenants in the same condo, then they can take our application for benefit their clients further.
WHAT IS LILUNA'S BUSINESS MODEL?
They separate the business model into 3 main parts as below:
1) White Label
2) Private Group
3) Booking Fee
Because the carpool is just the beginning of our sharing economy! LILUNA aims to be not just the ride sharing but THE LIFE SHARING ❤
For more info.
www.LILUNAgo.com
www.facebook.com/LILUNAGo
iOS : https://itunes.apple.com/us/app/LILUNA/id1183471298?mt=8
Android : https://play.google.com/store/apps/details?id=com.devster.LILUNA