Meet the LGM Alumni
Piyapon Piyathiratithiworakun : – Logistics And Supply Chain Management alumni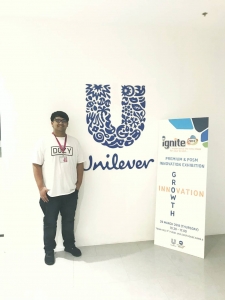 In recent years, jobs in the 'logistics and supply chain field' have been in high demand, as well as getting more popular among the newly graduated. Knowledge of logistics management is applied in business because of its core importance of getting the goods to consumers in the best possible way, using the best systems.
Why logistics and supply chain management at Stamford?
While at high school, during a school event, I was assigned to manage a beverage shop. I had to order beverages for sales. After that, I became interested in Logistics and Supply Chain management, especially at Stamford because it offers an international program. I think businesses need logistics and supply chain strategies. This includes the whole cycle from management of raw materials, to production, to distribution to consumers. That's not the end of cycle though. If the goods have problems after reaching consumers, we have to take them back. We also need to plan how to deal with these damaged items. Logistics work has a lot to do with international counterparts, therefore language skills are very important. Not many universities offer Logistics management in an international program. What I learned in class came not only from books but from real experiences shared by the lecturers. I learned case studies and went to see real work being done on location at several leading companies.
Can you share what you learned at Stamford?
I studied for three and a half years. The first year was for fundamental business subjects like Marketing, Finance, Accounting, etc. Then we learned more in depth about Logistics. For Logistics subjects, we learned the basics: Procurement and Sourcing Management, and International Logistics which is about document processing for air/sea transportation. Then we learned Retail Logistics which is about how the retailers deal with the goods. We also learned Warehousing and Material Handling Management which involves area handling and forecasting when to order the next lot.
How did you find a job?
Most of my friends looked for jobs by themselves. No one had any problems. In my case, I submitted a resume, waited for the interview and about 10 days after the interview I got a job. Now I work at Unilever, Thailand.
Which subject did you like most?
I like "Strategic Planning". I think this proves that what we have learned can be used in real life.
Any tips for people who are still looking for a university/what to study?
We must know what we like. We have to look for information about the field of study we are interested in so that we know if we are really passionate about it. You can talk to people in the field or go to open seminars or university events like Open House.
Can you share how to get first class honours?
First, don't be afraid to ask. When you do not understand, you must ask, otherwise you will never get it. Second, don't stop learning. You must continuously look for channels to gain additional knowledge.  Nowadays everything is within reach thanks to the internet, smart phones etc. We can search what we want to know at any time. Third, don't think that you can't do anything. If others can make it, you can make it.
Follow Logistics and Supply Chain Management Facebook page: https://www.facebook.com/Logistics_Stamford-646327462201934/