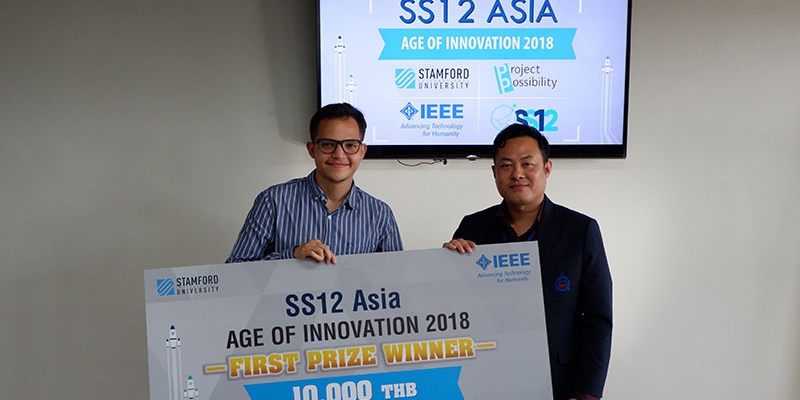 Stamford IT students through to next round of IEEE SS12 Project Competition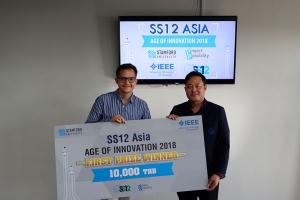 On Wednesday 1st August 2018, the IEEE SS12 Project Competition held its opening session in Stamford's IT Lab. There were 19 projects from around 10 universities from all over Thailand taking part in this stage of the competition and the winners will go to the final round in Sri Lanka. There are 8 topics and teams are invited to develop Mobile Apps or Computer-based or IoT based Projects.
IEEE SS12 is an innovation challenge organized to recognize the best social innovators globally. The theme for this year is 'EMPATHY TO ENGINEERING: SOLUTIONS FOR MACRO ISSUES'. Students from Universities around the world are participating and displaying their engineering skills.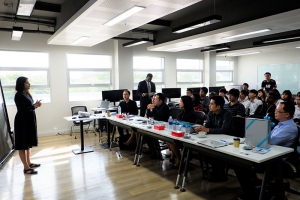 Stamford was impressive and won two prizes – coming in first and second. In first place was Daniel Goncalves with his project: Mesh Networks in IOT systems for urgent push notification (Women's safety category). Second and third places were team efforts with the following projects: Dr Eamonn Medi App (Health care), Stamford and Local Authorities Identification (Special needs) Thai-nichi institute.
The winners and the Project Mentor and IT lecturer, Dr Surekha Lanka. will now be flying to Sri Lanka to represent Stamford and Thailand in the final round. It will be tough as there will be roughly 600-800 participants. More details can be found at the website: https://www.ieeess12.com/
Congratulations to all involved and the best of luck in the final round.