Stamford signs MOU with Maybank Kim Eng (Thailand)
February 20, 2018
Stamford International University signed a Memorandum of Understanding (MOU) with Maybank Kim Eng Securities (Thailand). The signing ceremony took place at Stamford's Bloomberg Financial Markets Lab at the Rama 9 Campus.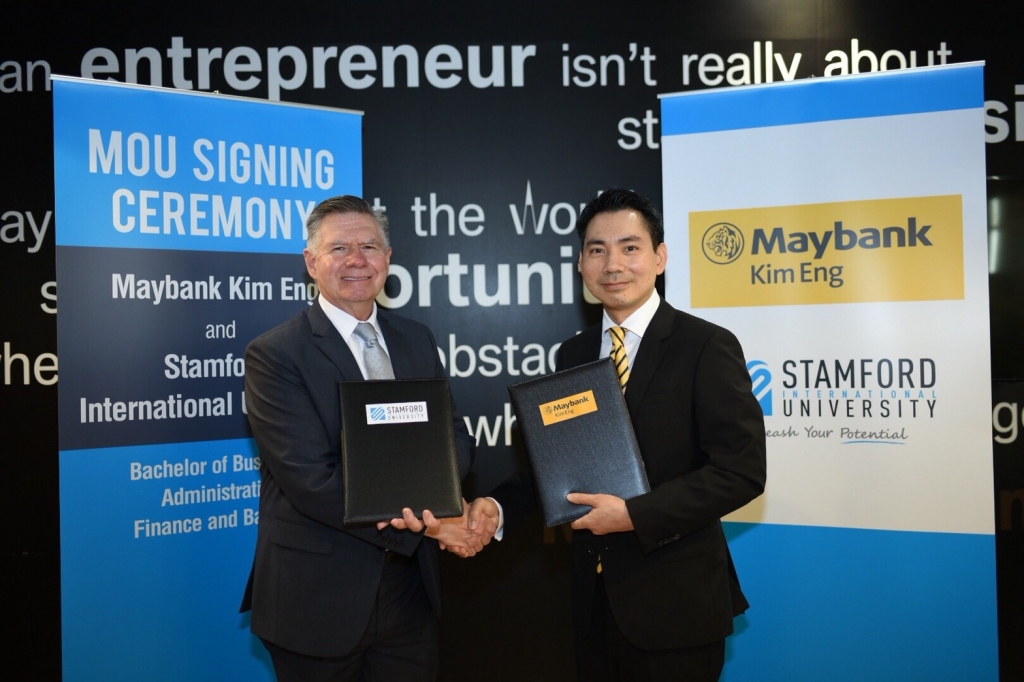 The MOU allows for increased collaboration between Stamford and Maybank Kim Eng and is targeted specifically for the university's BBA Finance and Banking program. Working together in this way is of mutual benefit to all, as students get hands-on experience of real-world situations and will graduate 'work ready' with the knowledge and skill-sets desired by employers as they work collectively and collaboratively on real-life, real-time work-related activities.
This is a Co-Branded program, meaning that Maybank Kim Eng will work together with the Stamford BBA Finance and Banking Faculty in the continuous development and improvement of the Finance and Banking Program. This mutually beneficial partnership supports Stamford greatly as the university continues its mission to produce employable graduates whose attributes match and exceed the requirements of international business and global labour markets. Stamford and Maybank Kim Eng will also work together in a variety of other industry related aspects.
Connections and collaborations with internationally renowned industry leaders such as Maybank Kim Eng Securities (Thailand) are one of Stamford's core educational pillars. Stamford believes that by working with industry partners, students gain vital exposure and experience that allows them to assess what potential careers would be like, while also giving them the practical skills that will make them essential in the workplace.
About Maybank Kim Eng Securities (Thailand) Public Company Limited:
Thailand's top securities broker, Maybank Kim Eng Securities (Thailand) has achieved number one market share for 16 consecutive years and is ranking with credit rating AA+(tha) and outlook stable by Fitch Ratings (Thailand). The Company provides a wide range of financial services such as retail and institutional securities broking, derivatives, investment banking and research with 46 branches nationwide. The Company is a member of Maybank Kim Eng Group which is the fully-owned investment banking arm of Maybank, one of Asia's leading banking groups and South East Asia's fourth largest bank by assets.The Maybank Kim Eng group of companies comprises businesses stretching around the globe with offices in Malaysia, Singapore, Hong Kong, Thailand, Indonesia, Philippines, India, Vietnam, Saudi Arabia, Great Britain and the United States of America.