Big Ideas, Big Data, a talk by Bloomberg's Lee Miller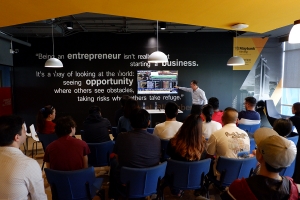 Bloomberg Thailand's Director, Lee Miller, visited Stamford's Bloomberg Lab on the 28th September to give a talk called: Big Ideas, Big Data: How to make memorable reports and presentations — and achieve your dream job.
Mr Miller, who is also a professor at Tsinghua University in Beijing, talked about how the world's leading financial information platform helps economists, investors, students and business executives by making "Big Data" easy to use.
The discussion helped students improve reports, PPTs and presentations. Mr Lee Miller is a founding member of the international staff of Bloomberg News, having set up the Thailand bureau in 1991.