An Aspiring Entrepreneur Studying in Bangkok
"When I joined Stamford, I was looking for a program and university that would challenge me to learn. I can truly say I was more than satisfied with my experience at Stamford."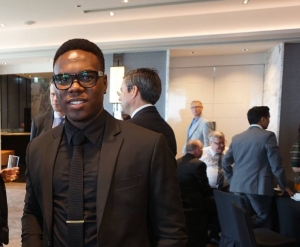 Meet Travor Akwenye, an International Business Management alumni from Namibia. He is now a Business Development Executive at Z.E. Software Co. Ltd.
"The industry projects and internships truly gave me an understanding and perspective of what lay ahead after my studies. In the real world, it is not about getting an A or a pat on the back, you have to take responsibility for your role in the organization and deliver quantifiable results. These projects often required us to work in teams, often with individuals from diverse backgrounds and this helped us significantly develop our interpersonal skills and emotional intelligence.
Most of the projects I worked on allowed me to form real lifelong connections with not only my classmates but also my professors and the professionals we worked with. Some of these people continue to play a significant role in my development and growth as a business professional, through mentorship, advice and even job opportunities.
My studies at Stamford not only prepared me for my career but also provided me with a lot of opportunities for both my business and career. To this day I continue to receive advice, guidance and mentorship from some of my professors. My job requires me to meet and work with people from different parts of the world. Studying at a university like Stamford with such a diverse student body has truly helped me understand how to be sensitive to other people's cultures, beliefs and ways of life.
Thailand, and Bangkok in particular, is often described as South East Asia's next Silicon Valley due to its strategic location in the heart of South East Asia. Thailand has become a very attractive destination for entrepreneurs from all over the world to do business. This in turn has created a lot of opportunities across many different sectors.
As an aspiring entrepreneur studying in Bangkok, Thailand has provided me with access to these opportunities that would otherwise be very difficult or expensive for me to access in other parts of the world. So, the biggest value for me is access to all these opportunities that Thailand provides as the gateway to South East Asia."