Interview with Ajarn Sawitree Santipiriyapon, Director of Careers and Employability
The role of the Careers and Employability department and the Careers Hub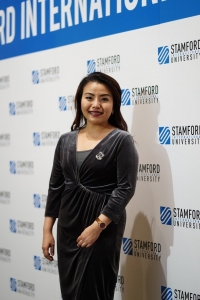 My role and that of my department, is to fulfil several functions. One is to deal with industry – we call it industry relations. The second is faculty relations. The third one, obviously as we are a university, is students relations and the last one is alumni relations. So while our department is called Careers and Employability, our brand is Careers Hub.
I have been at Stamford for three years but this department was established two years ago with the mission of developing the next generation of professionals. We focus on shaping the capabilities of the students to make them job-ready graduates, so once they graduate they are ready to work in the real world.
To help students, we give career advice. We are now in the digital age and have our own website where students can get career management resources and book an appointment to meet my team. They can get help and support regarding things like internships, which all students do at the end of a program. So we develop relationships with industry partners that are looking for graduates or internship students and we match our students to them. This is what we do the most.
Another service is with students who have finished their internships and want to find a real job. They can come and have a session with an advisor.
Also for the students, we have a variety of workshops run by industry partners. Some give career advice such as how to prepare a CV or get ready for a job interview. Others are more specific, relating to subjects such as the finance industry, hotel industry, airline industry and so on.
We also support the faculty, as the majority of their time at Stamford will be in the classroom. We help them with things such as program revision, ensuring programs and curricula are aligned with what industry wants from fresh graduates.
All Stamford programs are linked with industry. Twice a year we have meetings with the industry advisory board and we keep relationships current throughout the year through industry projects, workshops, guest lectures and site visits. So my unit is the middle, the hub that links Stamford stakeholders, industry partners, faculties, students and alumni.
Preparing for internships
If a student wants to do an internship the first thing they need to do is be very proactive. This means that if they are going to do the internship in November, they should start making connections now because making a connection takes time. So if you start early, you will have more connections for when it's time to do the internship. Connections mean opportunities. Students shouldn't wait until the last two weeks before the internship to find a job. In the real world, it takes a lot of time to find jobs and that also applies to internships. They might make a relationship today with someone they may work for many years from now.
My second recommendation and one of the most important is that internships should be aligned with the learning outcome for their programmes. For example, if they are airline business management students, they obviously need to work for an aviation-related business. That is pretty obvious but for others, such as International Business Management students, it is not so clear. As the nature of the programme is quite broad, they need to ensure that they work for a company that has an international context, so they can practice their international and multicultural skills.
How the Career Hub helps
In addition to online career resources, the official website and blackboard, we also organise numerous career events linking students to industry. For example, Networking Events and a Careers Fair give students the opportunity to start talking and making connections with industry professionals, so they can ask about job and internship opportunities. We get very good results from these events and it is where most of the students get internships. What we do is see the list of companies attending the event and then we look at the list of internship students and we match them.
We also work as a matchmaker in supporting the faculty with industry projects. For example, we currently have a project with BMW where we matched a faculty lecturer and an industry professional to work together on creating assignments for Communication Arts students. Previous experience of projects like this has shown that when the professionals interact with and see student performance it frequently leads to future career opportunities.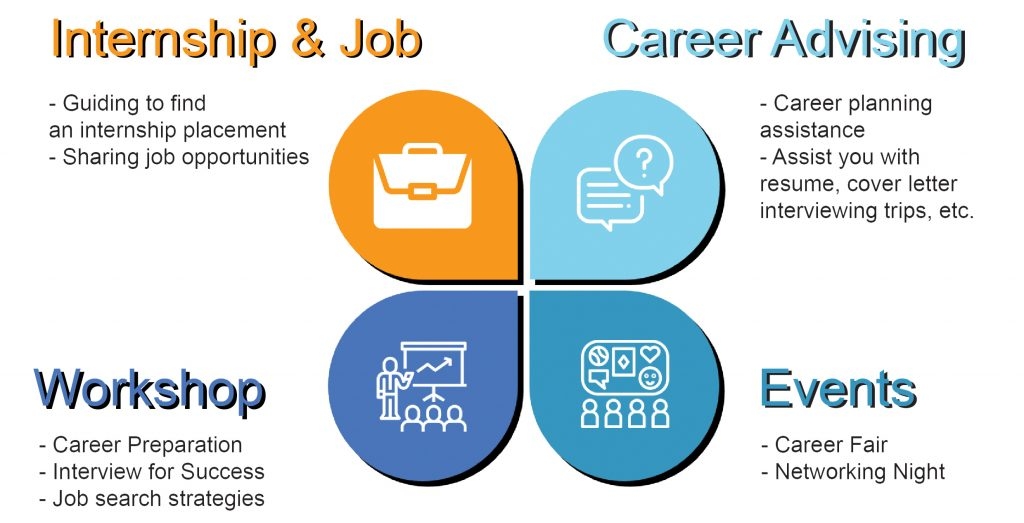 Students looking for a job
When looking for a job, communication skills are essential. The first thing students have to learn is how to sell themselves. They must learn how to communicate well in order to be selected and this starts with the CV. They must learn how to write a CV because that is what initially represents them. A CV needs to be different depending on the job, so we guide students in the creation of CVs tailor-made for the specific position and organisation that they are applying for. This is one of the more important skills.
Next comes how they communicate with their potential employer. It starts with the email application and the balance of formality and friendliness. The email is important as the CV and cover letter are attachments. How the students communicate, how they talk on the phone with the employer, how they make the first impression are all vital factors.
Industry feedback and student experience
The majority of the feedback we get from industry partners is that they are very impressed with our students, especially when it comes to their communication and multicultural skills. As most of our partners are international corporations, Stamford can provide them with the students they are looking for. I believe our students can close the capability gap. The capability gap is the expectations of employers and the skills they need, and the fact that Stamford students have the skills they are looking for. I think this is down to the nature of our partners, they are international, and the fact that our internship students and graduates can communicate well in English and can rapidly adapt to an organisation's culture.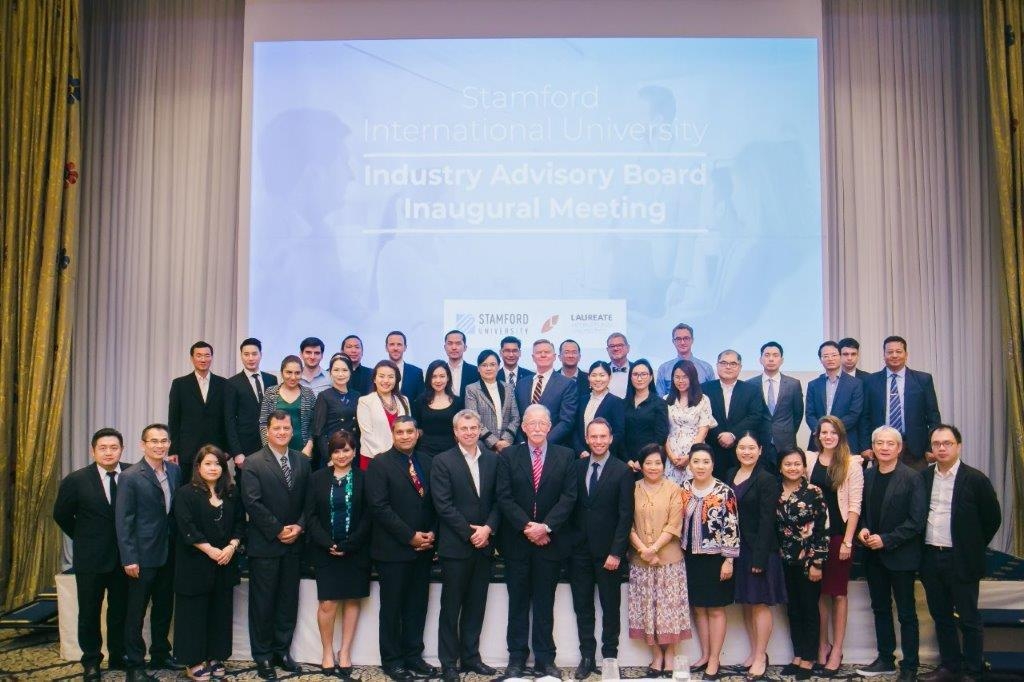 Last year we had about 120 guest speakers, 20 industry projects and a large number of site visits. This means that during the first three years before internship, students can expand their industry experience. The result is that every term they will gain exposure to industry and have the chance to talk with professionals, so when they enter the workplace, they feel comfortable. They know how to communicate. This is what makes a Stamford graduate different from other universities.
Working at Stamford
What I love about my job is first, we work in education. At Stamford, we build young people. I love that I can relate my passion into my job and the mission of my department – to grow and develop the capabilities of the next generation. Once students graduate, they will use their capabilities to develop and take care of themselves, their families, and their society, wherever they are from.
Every day when I work, we connect and collaborate with all Stamford stakeholders. This means I have the opportunity to meet a new person that wants to contribute to education on a daily basis. It is very rewarding.
At Stamford, we are free to share our opinions, our new ideas. All our colleagues here are very open and we listen to each other. There is also the beautiful aspect of the cross-cultural community here. We don't have boundaries regarding nationalities at all. I feel we bring the world to the Stamford family. I studied in Australia and France and I honestly find Stamford more multicultural. In my previous class, we had students from 15 countries. My colleagues come from over 50 countries. This job lets me learn every day, not just in a Thai context, but an international one.