"Mahanakhon Corners" Stamford Photography Exhibition 2022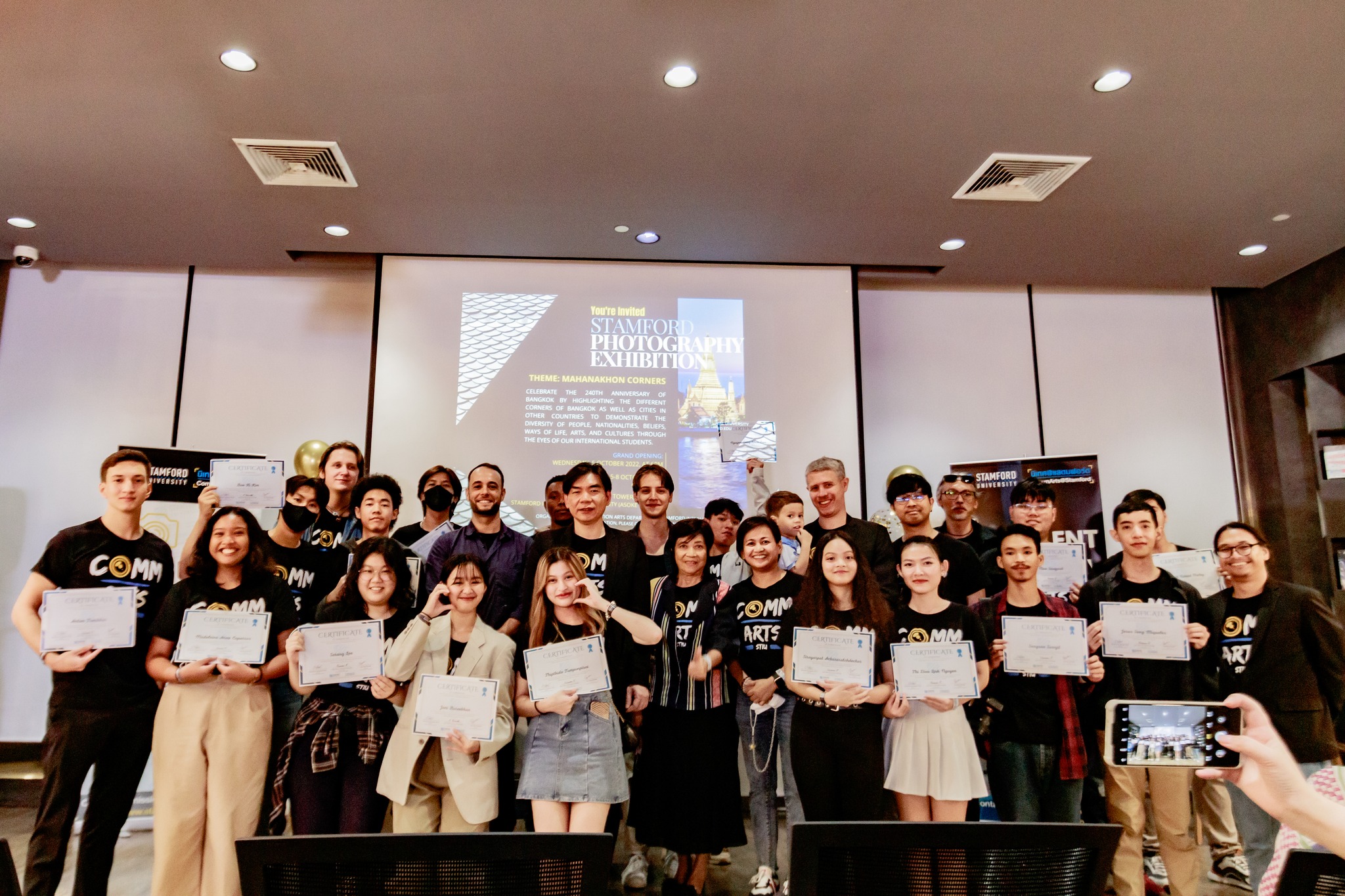 On October 5, 2022, Mahanakhon Corners Exhibition 2022 was held in Stamford International University, Asoke Campus. The event was organized by Communication-Arts Faculty students in the two courses of MAS426 (Photojournalism) taught by A. Jatechan (A. Bus) and MAS460 (Media Management) taught by Asst. Prof. Veerawan. Honorable guest speakers with experience in the photography field, Mr. Andre Malerba and Mr. Drew Willson, were invited to participate in the event.
Mahanakhon Corners was a photography exhibition taken by 20 STIU Communication-Arts students from 10 different nationalities which included: Dutch, Russians, the Philippines, South Koreans, Chinese, Vietnamese, Americans, Indians, Chileans, and Thais. They were assigned to different districts in Bangkok to perceive different perspectives from different nationalities towards Bangkok as well as cities in other countries such as China and India.
The event started with a speech by Dr. Apitep Saekow, Acting-President of Stamford International University. He welcomed everyone to the exhibition and complimented the students for their hard work on the Mahanakhon Corners Exhibition. Mr. Jeremiah and Ms. Sirayapat, two hosts from Communication Arts, interviewed the first guest speaker, Mr. Andre Malerba, an American photojournalist who has collaborated with international news organizations such as the New York Times, Washington Post, BBC, and more. He was discussing the topic "Inside the Lens of a Professional." In addition, he complimented the photos on the display taken by the students and gave them encouragement to spend more time in the field and keep improving their skills. The second guest speaker, Mr. Drew Willson, a young professional photographer, gave inspiration to the students under the topic "New Genz Photographer," together with Saranglee and Rajat, STIU students. There were 76 participants at the event that comprised of 46 in the audience, 14 Stamford Faculty members and 16 students.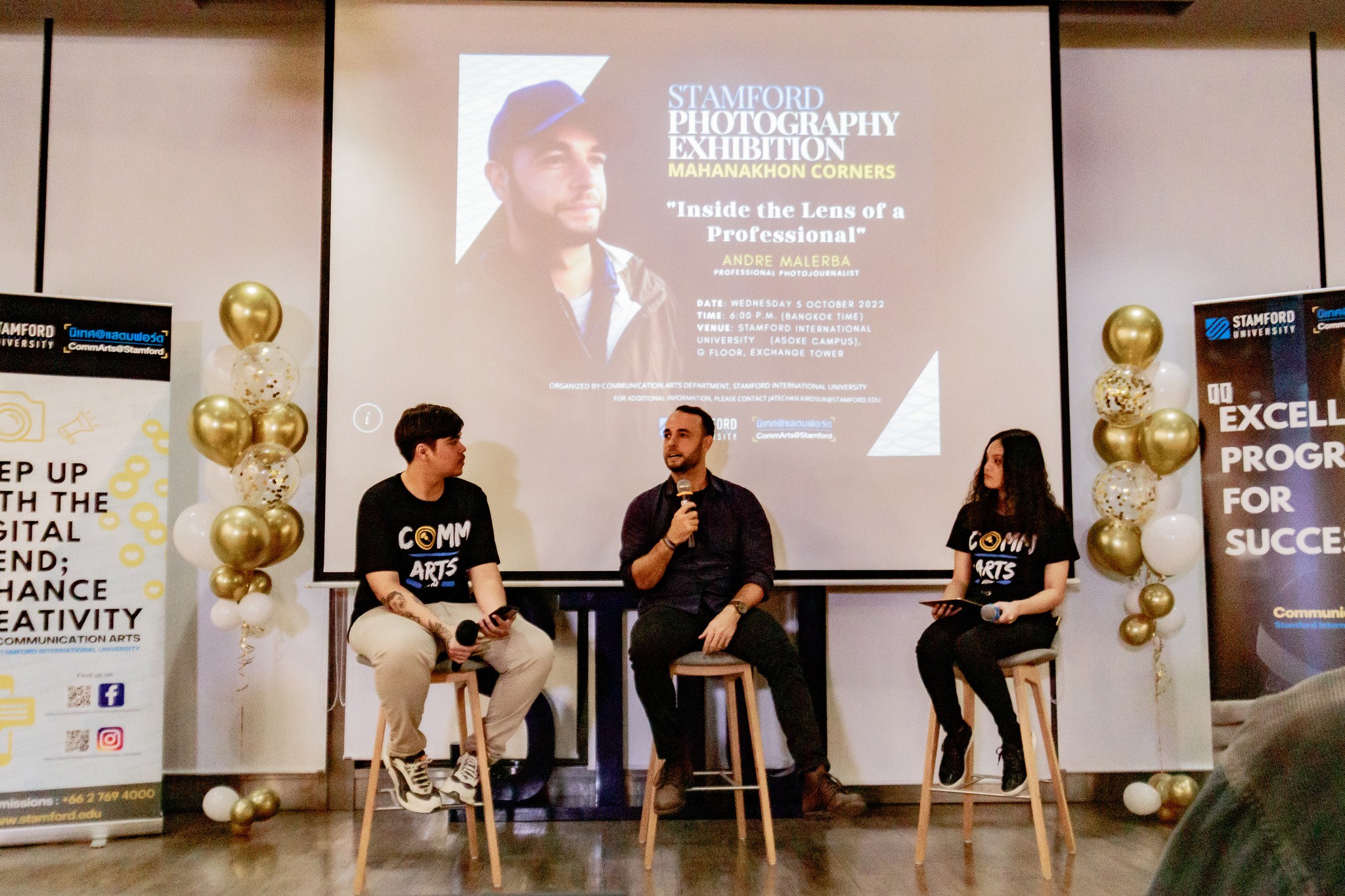 The press teams from MCOT and Thai PBS/Thai PBS World was invited to cover the news at the event and interview students, which was published on a Television show and online articles.
Click the links below to watch and read the articles.
Thai PBS/Thai PBS World: https://youtu.be/aq10Z-OX3yI
MCOT TV: https://youtu.be/4ANsK3p55WA
MCOT Online Article: https://www.mcot.net/view/akdlvTfY
Download Program Card: https://issuu.com/busjatechankirdsuk/docs/program_card
Watch Highlight Video: https://youtu.be/OT6mGevj8-U
View Pictures from the Event: https://www.facebook.com/media/set/?set=a.529622042503650&type=3
Lastly, we, at the Communication Arts Department, would like to thank all the participants and Media (MCOT and Thai PBS/Thai PBS World) to support this event. Last but not least, many thanks to the class lecturers A. Jatechan and Asst. Prof. Veerawan including your students for organizing such a wonderful event for the academic year. The event was very successful. We have received very good comments from the participants! Thank you and Cheers!