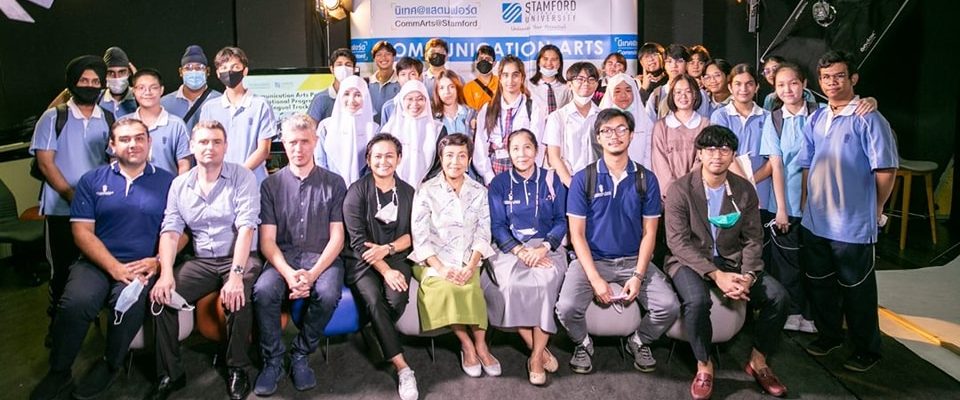 Mini Open House and Workshop for Chindamanee School By Stamford Communication Arts Program
On Wednesday, August 31, 2022 at Stamford Studio, Rama 9 Campus, Communication Arts Program of Stamford International University organized "Mini Open House and Workshop" for high school students fromChindamanee School.
The event started at 9:45am. Dr. Apitep Saekow, Acting President of Stamford first delivered a warm welcoming speech following by the presentations of Stamford introduction and communication arts program from Khun Ploypailin Asumpinnapong, admission manager and Dr.Peerawat Tan-intaraarj, a lecturerrespectively.
At 10:30 am, Ajarn Jonas Becker, a lecturer conducted the creative digital photography workshop on topic of  "Tips of taking creative digital photography". The visitors had an excellent opportunity to practice their skills and to develop their knowledge about how to creatively take photos.
The event was successfully held achieving the objectives. There were 29 students and three teachers from the school joining the event. Without the strong collaboration and support from Stamford alumni, Mr. Umer Farooq Khan who is currently an executive marketing and social media manager at the Chindamanee School's Cambridge Program, the event would not happen. Sincere thanks from the Communication art program goes to Mr.Umer, students and teachers. Special thanks also to Stamford faculty and staff for your great effort and contribution to the success of this event. We look forward to strengthening relationship with Chindamanee school for further collaborative events/activities.