Working Group of the Promotion of International Student Affairs under the Minister of Higher Education, Science, Research and Innovation (MHESI)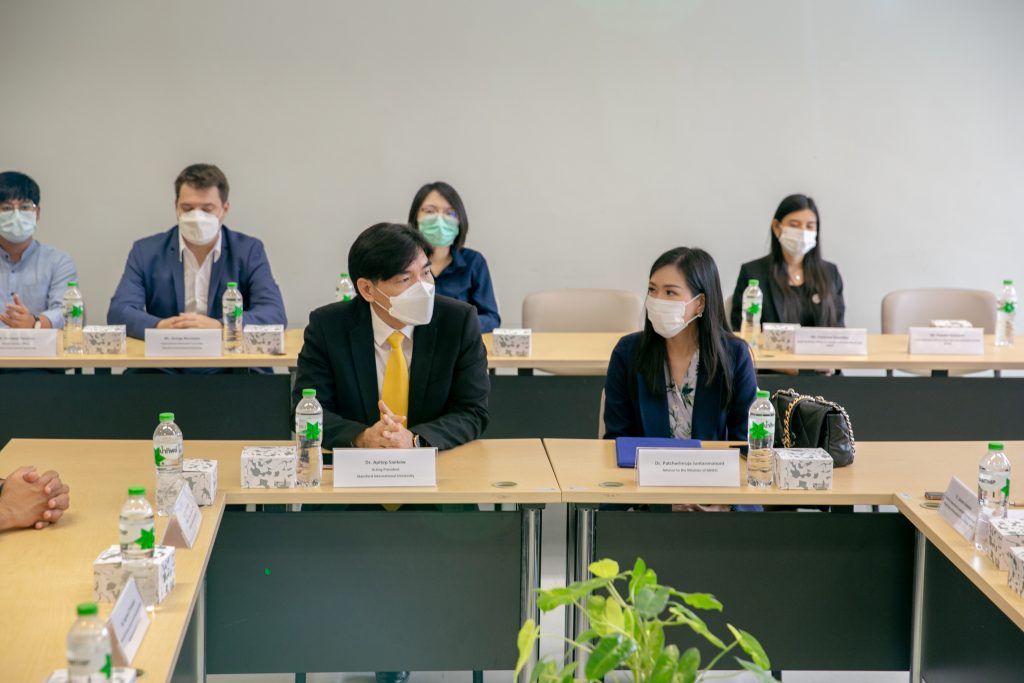 On Monday, September 5th 2022, Dr. Patcharinruja Juntaronanont, Advisor to the Minister of Higher Education, Science, Research and Innovation (MHESI) 2022 with working group members visited Stamford International University (STIU) at Rama 9 Campusto strengthen collaboration and cooperation for further improvement on international aspects of education and oversea student support.
In the morning Dr. Apitep Saekow, Acting President, introduced STIU management team,  delivered a warm welcoming speech and presented an introduction of Stamford International University with its vision, mission and strategic directions of Stamford 4-I model: Internationality, Innovation, Industry Linkage and Integrity. Following by the speech of Dr. Patcharinruja Juntaronanont, she mentioned that the main objective of this visit was to endorse the MHESI role of prioritizing international education with the aim of promoting Thailand as regional educational hub. MHESI will strongly cooperate with Thai higher education institutions in order to increase the quality and internationalize Thai higher education. These efforts will create the compatibility and comparability of courses and programs between Thailand and other countries. MHESI would like to ensure that international students are equipped with all the necessary competencies and enjoy their stay while living and studying in Thailand. As Stamford International University (Thailand) is known as one of the most popular private Universities for international students to study, it was an excellent opportunity for the MHESI working group to visit and know more about Stamford policy and practices in managing international education and international student affairs.
As a representative of International Student Affairs, Dr. Diana Martinez introduced student affairs function and presented the policy of international students and the organized activities/events supporting international student life while studying at Stamford. Dr. Patcharinruja Juntaronanont and MHESI working group then met and discussed with 38 international students from 16 different countries. In the afternoon, our special guests visited Communication Art studio, classrooms, and the laboratories of each program.
In addition, MHESI has promoted this event from the news on the MHESI Facebook. Dr. Patcharinruja Juntaronanont admired that the University has well organized and managed systems to support international students from day one through student orientation event and ensure they will be educated and graduate to become a global successful citizenship. Importantly, Stamford is paying attention to the students support in both curricular and non-curricular activities/events provided by Student Engagement and Student Service Hub. The University always focuses on an increase of diversity of student and employee body from different countries and cultures to internationalize educational service and campus environment which drives the University towards the vision being a trusted leader in higher education and recognized as a truly international university
https://www.facebook.com/100064789863797/posts/473396934829965