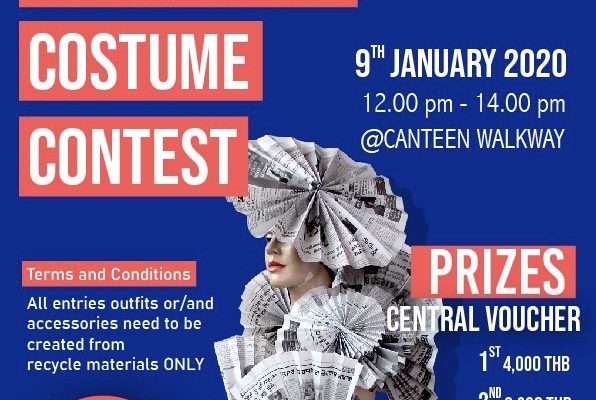 Stamford gets creative and highlights sustainability with 'Sustainable Costume Contest'
Waste and sustainability is a hot topic right now with initiatives springing up all over the globe. Thailand's recent ban on single-use shopping plastic bags has been top of the news for the last couple of weeks, with recycling and reusable products becoming major talking points. Garbage does not have to be simply discarded waste.
With this in mind, Stamford's EVT201 class held the 'Sustainable Costume Contest' on the 9th January 2020 at the Rama 9 campus. The competition was conceived by Sophie Barbarin, Stamford IHM student, with help from her schoolmates Sarany Tohlee and others. The idea was to get people thinking critically about what they throw away and expose them to the many creative and functional uses recycled material can have. As well as being a lot of fun, the contest raised awareness of vibrant and sustainable art and fashion with the hope being that the audience and participants will apply some of their experiences at the event into their own lives.
The competition took place at the canteen walkway and was hugely popular with members of the music club joining in. The eight participants designed and wore costumes that were made entirely from recycled materials, with the three winners getting 4000 for first place, 3000 for second and 2000 for third. There was also a popular vote, with the winner getting an eco-friendly bag, based on who received the most flowers from the audience.
More importantly, it was hugely enjoyable, inspiring for all who went and a crucial issue was highlighted. The organizers received a lot of positive feedback from all who attended raising the possibility of similar events in the future. Congratulations to all involved.
Click the VDO to view snapshot of the Sustainable Costume Contest.