The 2nd International Media Forum: "Brand Communication in the Digital Era" 
On Friday, January 27, 2023, the Communication Arts Program organized the live steaming event on Facebook—"The 2nd International Media Forum" under the topic: "Brand Communication in the Digital Era" with three panelists comprising of Ms. Amrita Singh, Director of DMI Event, Nepal, Ms. Petchlada Pilouk, Senior Account Executive of ShareInvestor, Thailand, and Mr. Alex Beuchel from Germany, Director of Jump Communications which is located in Thailand. Event moderators are two lecturers from the Communication Arts Program, Dr. Peerawat Tan-intaraarj, and A. Marian Ehret. The number of participants, included Stamford lecturers, Stamford current students, and people who were interested in the topic, joining this online event is 55.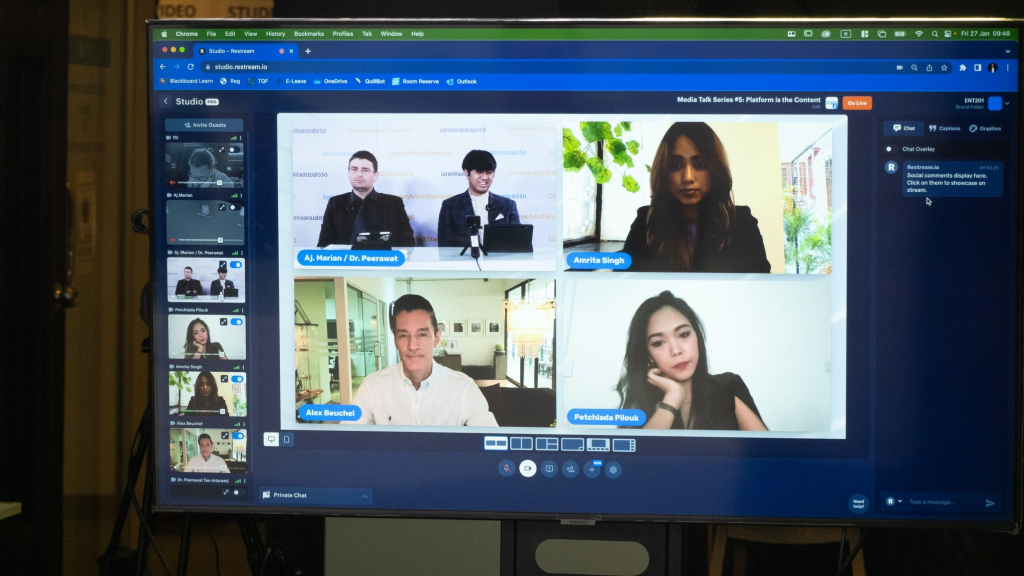 During the event, all three panelists highlighted key messages involving ways or methods of brand communication, including both internal and external factors which have influences on how to communicate to potential audiences effectively. Ms. Amrita Singh explained that familiarity is a significant key factor in brand communication. An interaction between a brand and a consumer need to be immediate. She also shared that new apps will come up in the future, and it will change the way people interact to each other, as well as the brand communication sphere. Ms. Petchlada Pilouk mentioned about the importance of a corporate website, which is one of brand communication tools. Moreover, she said that COVID-19 situation accelerates the transformation of the trend of media use. Many brands use digital platforms as main communication channels to communicate with their customers. The last panelist, Mr. Alex Beuchel highlights many key issues regarding brand communication. His idea regarding the feel of brand is that it should not abruptly change. For international marketing, localization is a key to success if a brand aims to expand its market to local areas.
For the evaluation of the event, most of them evaluated that they 'agree' the event provided different perspectives regarding brand communication from panelists who are professionals in the field. Participants learned about brand communication skills from panelists though information, as well as from their shared experiences.
We would like to send our message of "Thank you very much" to all the panelists for joining and willingly sharing their experiences with our Stamford members and people who are interested in the topic. Also, "Congratulations" to the Communication Arts Program for the very successful organization for this International Level online forum. Thank you also to the Stamford Management team for always supporting these activities. We look forward to seeing the event of the 3rd International Level online forum in the near future.
The Event Link: You can watch the record video of the 2nd International Media via this link: https://www.facebook.com/CommArtsStamford/videos/906358837477929