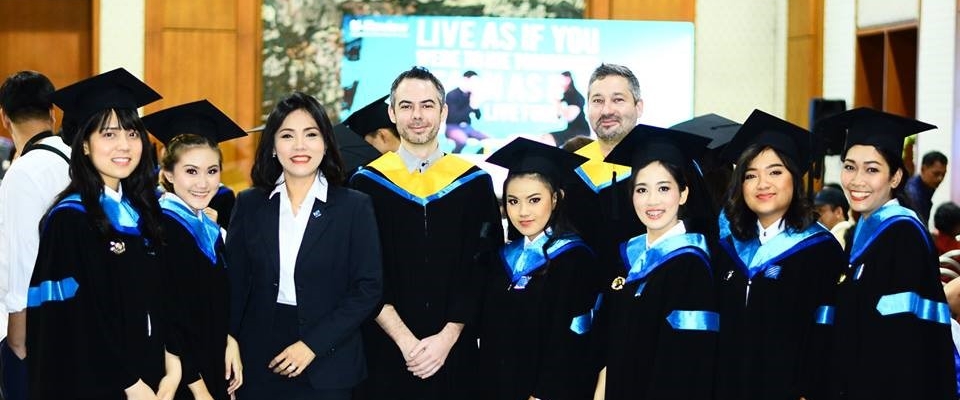 2018 Commencement Ceremony – Hua Hin Campus Valedictorian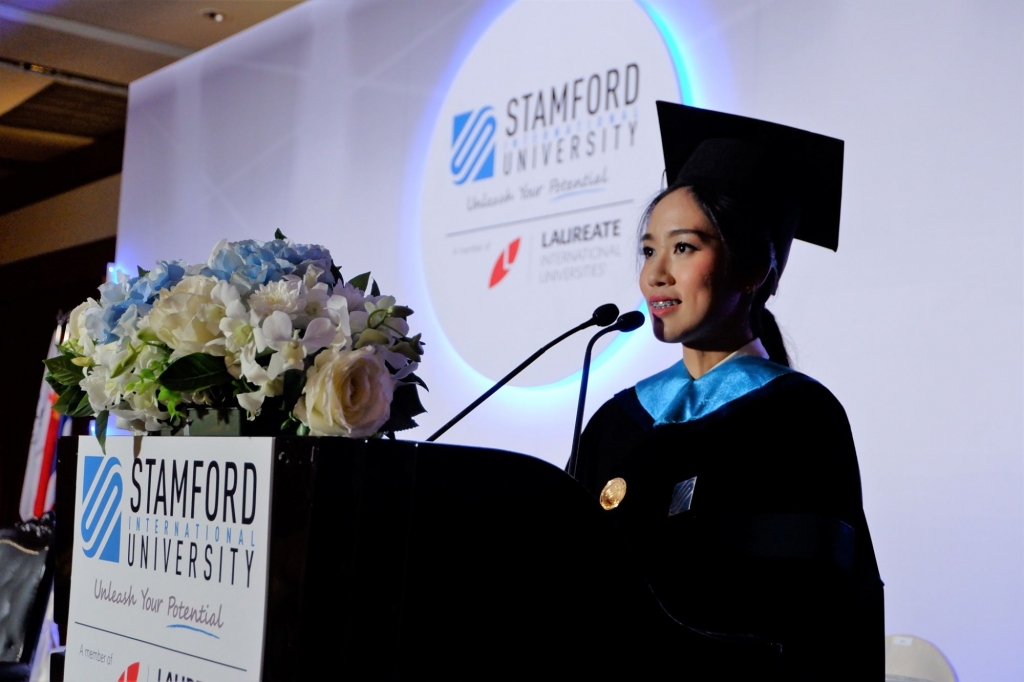 "My name is Jitra Pongpaiboon. I am very honored to have been given the opportunity to be standing here as the valedictorian of Hua Hin Campus.First of all, I would like to thank the administration, faculty, teachers and everyone who is part of Stamford International University for their hard work. They sacrifice their time for us and make sure that everyone gains as much knowledge as possible from the first day until the last day of being students at Stamford.
Thank you to my lovely dad, mom, sister and family who always support me and have faith in me. Thanks dad for calming me when I get stressed, with a warm hug. Thanks mom who always supports me in everything, she is like Doraemon who always helps me as Nobita. Thanks sister who always says yes when I ask for help even though she is busy. Thank you to my family and everyone who made this such a wonderful day for me.
I had studied in regular Thai schools since I was young. In Thai schools, the main focus is normally on teaching grammar and less on speaking and listening. So, my English skills were good enough just for passing tests. The first day that I studied English at Stamford, I could not understand most of the vocabulary when the teacher and my friends were speaking English in class. I often asked my friends sitting next to me: "What did he talk about?", "What did he assign us?" I was also afraid to speak English. I spoke only when presenting assignments in class. I was shy and afraid to speak because I used to be ridiculed when I tried to speak like native speakers. They also said that it was not necessary to speak English in our daily lives. Therefore, I would only speak English if teachers asked me to. Now, I am braver in talking to foreigners, even though I do not speak fluently. I do not know when I stopped having a fear of speaking English, but I know that what changed my mind were my friends and teachers here. They always influenced me, helped me and stood beside me. We had many experiences and memories together, some good and some bad, that now we can look back on and laugh. takipçi satın al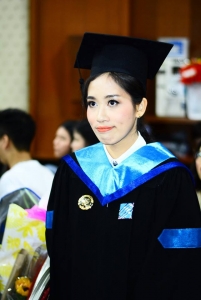 Fellow graduates, everyone was waiting for this day. Some even counted down to graduation. And now, finally, we are graduating. We are happy, but I believe that deep in our hearts, we are also sad. We will no longer have friends who we can study with or chit chat. We will not have the free time to hang out together as easily, as everyone will be working in different places around the world. However, this moment will become one of our best memories and we will keep in touch.
The next chapter that we are going to focus on is working. Work is not difficult but working successfully is not easy. I read a book called 'The One Thing', written by Gary Keller and Jay Papasan. It talks about the fact that being successful does not mean doing a lot of things at the same time, as the results may not be effective. As Gary Keller says in the book, "you can do two things at once, but you can't focus effectively on two things at once."
The key of success is finding out your one thing that is the most important in each situation. It is better than doing many things at the same time. This one important thing that you do will lead to surprising results. If you achieve this important thing, you can continue to finish many others. This will lead to great achievement in life. I will give you an example of the One Thing lifestyle in action, using Bill Gates.
In high school, the ONE passion of Bill Gates was computers.
This led him to develop ONE skill, computer programming.
He got ONE job while in high school, in the computer programing field.
Which led to him start ONE company, called Microsoft.
Microsoft focused on ONE thing: the development and sale of BASIC interpreters for the Altair 8800.
That eventually made him the ONE richest man in the world for 15 years in a row.
Therefore, it is best to start figuring out your one thing and work on it. If you want to be successful, you must focus on that one thing that you identify. Steve Jobs said, "people think focus means saying yes to the thing you've got to focus on. But that's not what it means at all. It means saying no to the hundred other good ideas that there are.
Finally, congratulations again and I wish all of us good luck in our future."