IHM student wins bronze in Thailand's International Culinary Cup (TICC) 2018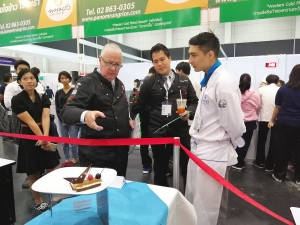 On Saturday 8th September 2018, four IHM students participated in TICC 2018 (Thailand's International Culinary Cup 2018) at BITEC Bangna. They competed in "Western Cold Plate Dessert: Individual" junior category and Mr Rebin Kayestha received Bronze Medal. Ankara Escort
There were 27 teams from different schools from around Thailand participating in this category and Stamford were the only hotel management program, the rest were all students from culinary programs.
The students had two hours to prepare three dessert plates starting from scratch. For the "Western Cold Plate Dessert: Individual" category, judges were looking at taste, presentation, hygiene & safety, and technique.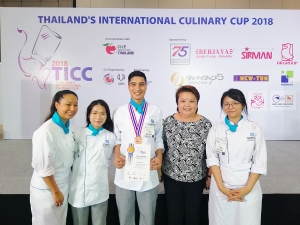 The four IHM students had been guided and coached by Ajarn Anna Quek for the past two months. All judges expressed surprised that we were the only hotel management program to take part in this competition and as a result, they now know more about our program and about Stamford International University.
TICC is organized every year by Food & Hotel Thailand (FHT). The event gathers chefs and industry experts from around Thailand. A lot of Thai chefs participate in the event to show their culinary skills and hopefully be selected for the Thai National Culinary Team for the Culinary World Cup in Luxembourg 2018.