Interview with Cell Dilon, Associate Director of English Studies (Hua Hin Campus)
"What I really like about my job is I play a tiny role in shaping the future of Thailand. I find it fascinating and exhilarating trying to prepare students for what might possibly happen in the future. I love giving advice and transferring the knowledge I have to the students. Being around young people is a way to keep yourself young."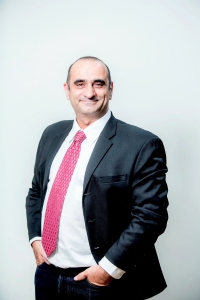 "My position involves a variety of things. Obviously, it involves teaching and lecturing in the subjects that are offered within the program but over the last three years, together with Ajarn Maytee, the Associate Director in Bangkok, I have also considerably developed the program.
We created a study platform for the students, have advisory duties and are responsible for program activities, industry projects and everything that has to do with the program.
One of the things I really like at Stamford is the '4I' framework – International perspective, Industry linkage, Innovation and Integrity. It is the Integrity part that I think is so vital to everything we do. I believe students benefit by our being upfront, honest and straightforward in all that we do.
We are also Innovative. We take something like industry programs and projects very seriously. When students graduate, they have real-life work experience. This is vital. When I was young, we didn't have things like that and were ill-prepared for working life.
Our students have an international perspective, as they come from around the world, yet we have succeeded in creating an atmosphere where everybody belongs to Stamford. There might be different cultures and nationalities but everybody sits and eats together, speaking and learning from each other. There is a willingness to communicate here.
This sense of belonging extends throughout the programs and the level of cooperation between them is astonishing. Recently the Business English Major did an art exhibition about Thai culture and everyone helped, with the IHM students serving mocktails for example. Even though we have different programs and schedules, when things happen, we pull together and work together.
I really love the village atmosphere at the Hua Hin Campus. Everybody knows each other. When we have new classes, I know 80% of their names before they come in because I have spoken to them already. When we have problems I know where to go and if there are conflicts, we can face them head-on.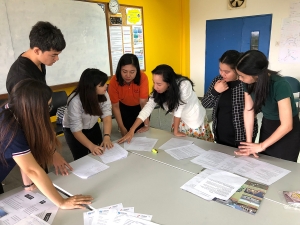 The campus atmosphere is incredible. We have around 12 student-led clubs, created by them and supported by the university. We have activities that involve the whole campus, with everyone joining. It's nice going to work with a smile on your face every day.
Not being able to speak Thai is not really a problem. In fact, as we have bilingual and international students, it all works really well with great intermingling across cultures and nationalities. You will see groups of Thais sitting with others, speaking together in English because they feel it is a necessity in an international environment. We have, for example, Danes, Swedes, Chinese, Bangladeshis and Indians mixing with each other and the local Thais. It creates an amazing atmosphere. I look forward to welcoming increasing amounts of foreign students and being even more multicultural and multinational. We are seeing a huge change in that Thai students are interested in globalisation, experiencing the world and bringing their experiences back to Thailand.
The BA English program takes a traditional arts degree and makes it applicable to real life. We learn all the things traditionally associated with an arts degree such as poetry and Shakespeare but then we add business skills to it. We have numerous subjects on the curriculum that give students a deeper understanding of the world. If they have a creative mindset, they can adapt to different areas and become useful to industry. Unlike more specific programs, in BA English we have multiple areas that students can go into afterwards.
When many of our students start, they don't really know what they will do afterwards and the program allows them to work on, experience and explore a huge amount of specific areas. They take this further with internships. We have students who want to be radio announcers, teachers, work in international environments, international business, personal assistants, translators, marketing, any kind of communications field. Often what an international company in Thailand needs is someone who can communicate with the labour force as well as in English and we have students that are very strong English speakers. Our strength is definitely communication skills.
We supply our students with a great deal of analytical power. Getting inside a situation or problem and figuring out how to get from A to B is something that our students work with daily. They know how to solve problems and do different kinds of assignments – individually or in team-based situations. BA English students must have original thoughts, they can't depend on me to tell them what to think. This gives them high-level problem-solving skills, opening the door to high-level positions.
The program is incredibly broad and that is what makes it unique. This scope means we have incredibly well-prepared students because we are always challenging them in different areas. One day they have to come up with a new product, then they have to market it, then do a storyboard for a movie and then a research report. They are creative and can think differently. All these skills prepare them for the future in Thailand and the rest of the world.
We do lots of industry projects, which is impressive for a non-business major. I make sure that when we do something, it benefits society and gives back to the local community. For example, one we did was in cooperation with the Phra Nakhon Kiri National Museum, Petchaburi, which was a palace for King Rama IV. We sent 35 students, who looked at the signage, took pictures and documented everything, and then helped them with what was needed from an international perspective. It was an incredible success with great feedback.
Coming up, we are working with international teachers helping Thai teachers educate the physically and mentally handicapped. These are huge and interesting projects and we're helping on an NGO basis, assisting while contributing to local society and giving students valuable real-life experience.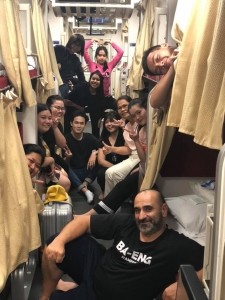 Our students face situations they might face in the future. I've always been concerned with the safety net of a Thai student studying in Thailand and wanted to put them in situations where they can't rely on speaking Thai. When we had 21 students visit Penang we gave them a set of six places to visit. They had to figure things out, talk to people, discover what the places were and what they meant. It was a real travel experience. We will go to Kunming in China this year.
We also do lots of CSR projects. This term we went to Lopburi and studied Thai culture. While there, we went to a local kindergarten gave them food. I teach responsibility to my students, it's important to give back to society. This brings us back to the Stamford principle of Integrity – to not only teach knowledge but to make society better.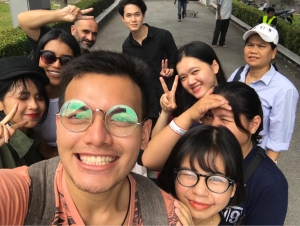 I don't allow my BA English students to just sit back and listen to the teacher. Obviously, they have lectures but then they have to figure out how the information is applicable in situations. One of the reasons we have so many activities is because I want to show what students have managed to produce. They don't just take notes, they know how to produce end products. This gives them real-life experience.
This year there has been art, travel, CSR projects and more. I want students to understand that studying at university is a full-time job, they can't just depend on what I say. I challenge my students. I want them to be able to think for themselves. We can't just be followers, we have to be leaders.