Interview with Mr Thanasak Muangcharoen, Stamford Library Director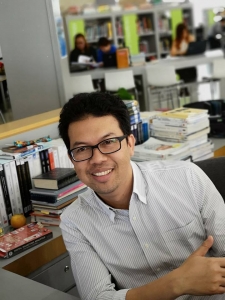 "If you come by the libraries at the Rama 9 campus or the Asoke Learning center, you may see me, Mr Thanasak Muangcharoen (Mr White). I have been the library director at Stamford for six years now. I understand student stress, the pressures of ongoing studies and what resources are needed, as I have a master's degree in library and information science and have undertaken extensive research working directly with graduate students."
"'How Can We Help You' is our library motto. We enjoy assisting and helping in a student's education, changing the traditional role of a library from one that just finds and orders books, to being an extension of the lectures, helping research and class publications. The role of the library today is different from the past. It has become a meeting place, where people can study, gain knowledge, exchange and share ideas.
Most will have noticed some changes at the STIU library. These changes have come about after collaboration with other major universities where I have been invited to join conferences. I have, over the past year, set up and shared resources with Chulalongkorn university library and am also a member of THAIPul (Thailand private university library network). This allows students access to diverse and extensive research resources.
The library at the main Rama 9 campus  is a place for learning and reflection. We open daily from Monday – Saturday. The library also offers textbook sales and activities to support teaching and learning for new students at the beginning of each term. The Librarians work in collaboration with faculty and students. They help students learn the best ways to access and use quality information and resources, helping them to develop their study and research skills and explain how to use the latest technologies to enhance their learning. There are activities such as teaching researching information sources, library workshops, and also a computer zone for students to search online resources. (To access to online library please visit http://online.library.stamford.edu )
I am proud to offer all STIU students an exciting new library service to assist with research and theses development, called, 'The Research Clinic' currently being conducted for MBA students at the Asoke campus.
All MBA students are welcome to come on Tuesday or Thursday (working library hours from 10 a.m-7.00 p.m.) This is a fantastic opportunity for students to discuss and learn how to access library resources in order to complete their various research objectives. Students that are beginners to research are most welcome. 'The Research Clinic' will help you get started along with training you on how to access the various online databases and resources along with being inspired by past publications such as business plans, IS, marketing plans or theses.
'The Research Clinic' also includes group discussions dependent on how many students arrive on a given day and you are advised to book ahead by e-mail: library@stamford.ac.th. You can also follow the Stamford Library on Facebook.
It will be my pleasure to assist where I can. In addition to being at the library you can look out for me in your classrooms as, from time to time, I am invited to come and conduct workshops on how to access databases, along with answering questions about library services.
For myself and the hard-working team at the STIU library, it is our objective to offer students the best library collections and databases available. 'The Research Clinic' is just one of the many new services that are planned. Please feel free to come by the STIU library and join any of the workshops or enjoy the many study spaces that are available.
On behalf of myself and the team at the STIU library 'How Can We Help You'?"