The Advertising and Digital Marketing Communication is a multifaceted field that requires many different skills and qualities. This program is designed to advance students in their development and introduce skills related to digital marketing communication, focusing on creativity in communication, and digital marketing planning.
Students will have the opportunity to work across a wide range of digital platforms and be able to identify global trends, understand consumer behaviour and create, for example, more touching advertising campaigns. With a strong and close connection to the media and related industries, the university provides students with the opportunity to work in a real-life environment with many practice activities in persuasion, negotiation and English language communication skills, and the ability to collaborate and work well with others. These activities are an integral part of the engagement in the important elements of an advertising career including creativity, and innovation of thinking.
Our students will be provided with personal space for undertaking their work in the full utilization of our studio and editing rooms for obtaining consistency in practical experience. With well-rounded, deeply knowledgeable and professionally experienced instructors, the students will be able to meet the needs for their future promising and desirable careers. 
Creative Visual Expression – for students who want to pursue a career in advertising.
Strategic Communication – ideal for strategists: the planners, the talkers.
Dual Degree Option


• BCA – Advertising and Public Relations
• BA Communications – Advertising and Public Relations
Stamford has a collaboration with Richmond, The American International University in London, UK. Students who complete the requirements for Bachelor of Communication Arts in Advertising and Public Relations at Stamford can apply to enjoy a facilitated admission into the Bachelor of Arts in Communications program (Advertising and Public Relations) at Richmond. Students will receive two degrees on graduation.
At Richmond, a student will qualify with an American degree that are recognized and respected by employers and graduate schools worldwide.
Industry Partnership

Stamford International University signed a Memorandum of Understanding (MOU) with Index Creative Village – Thailand's number one creative event organizer and ranked by America's Special Events Magazine as the 7th best event organizer in the world. Index Creative Village is an organization truly driven by creativity, offering a variety of services in marketing communications using 'The Creative Business Solutions' methodology in all aspects. This partnership makes it possible to provide new educational resources, workshops, internships, special events, seminars, CSR events, and research and development ideas.
The S Agency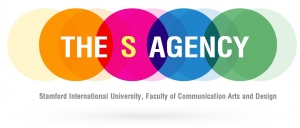 The Faculty of Communication Arts and Design has launched "The S Agency" which is an Advertising and PR agency run by students under the guidance of professional lecturers. Students will be more competitive in the job market after having worked on real projects for real clients in areas such as Advertising, PR Strategy, Branding Solutions, Digital Media, Event Organizing, Social Media Campaigns and Communication Research.
At Stamford, you will learn, work and collaborate with leading professionals in the field of advertising and public relations, providing you with the resources to stay ahead in your future career. To experience and see what we do, come and visit "The Spot" at thespot.stamford.edu.
You will learn and develop an expertise in:
Public Speaking
Writing
Planning Events
Creating – Managing
Editing
Producing
Promoting
Persuading
Developing Campaigns
You can master creating:
Advertising Campaigns
Press Releases
TV and Print Commercials
Speeches – Social Media
Media Plans
Publicity Campaigns
Product Packaging
Special Events
Career Opportunities
Creative in an Advertising Agency
Strategic Planner in the Communication Department
Content Creator
Brand Manager
Social Media Admin
Online Media Planner
Account Executive
Event Planner
Copywriting and Editing
Marketing Strategy
Mobile Marketing
Other related jobs
Please visit our activities at the links below:
Facebook: https://www.facebook.com/CommArtsStamford/
Instagram: https://www.instagram.com/commarts_stamford/
YouTube: https://www.youtube.com/channel/UCGygwmG–oJEbHGdeTTktjw/featured
TikTok: https://www.tiktok.com/@commarts_stamford?lang=th-TH